Another "on the road" video, once again driving down to the Belton HamExpo, the only Hamfest in Texas to support 2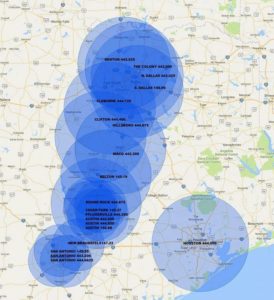 shows each year. This is a great tailgate event that is enjoyed by many in this area.
On this trip, I get to catch up with a few guys from the MJARS club on their newly updated 220MHz BridgeCom Repeater, and I also have a few QSOs on the Texas Nexus WIRESx room with Yaesu System Fusion.
The Texas Nexus room, which I have used only a few times, is comprised of Yaesu System Fusion repeaters, many of which are running in digital-only model, all connected to a single WIRESx "room" called The Texas Nexus.  "Rooms" in WIRESx are similar to Talkgroups in DMR and Reflectors in DSTAR.
On this trip, I was able to change repeaters only twice, and talk in the same Room to all the same folks, during my 2-hour trek from Grapevine to Belton.  A very nice system.
Follow me on: