Yaesu FT-891 Unboxing and Testing
Yaesu's newest HF radio, constructed for mobile use, based on its size and removable faceplate, has some cool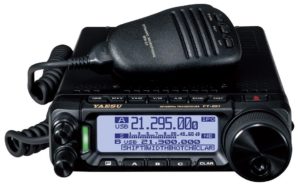 filters, a large display, and is fairly easy to use.  However, with the price-point around $850 (LINK), and the fact that the radio is missing VHF/UHF, the facts just don't add up.
Sure, this is a good radio, and it works well on HF.  But does it need to be priced higher than the FT-857D?  What if you want to do some USB on 144MHz?  Not happening with this FT-891.
Yaesu wants to separate the HF from the VHF/UHF radios.  Good, that is a great idea.  But why price the radio like it still has all these features?
On a positive note, I did find the radio very easy to use, the menus easy to navigate, and I got good audio reports.  Being and HF-only rig seems to be a legit job for this radio, I just didn't agree with the price-point.  But some of you die-hard Yaesu fans are going to love it, I suspect.
To purchase this radio, see THIS LINK
Follow me on: