In April of this year, I attended the Green Country Hamfest in Claremore, Oklahoma.  I had attended this show previously, as a vendor for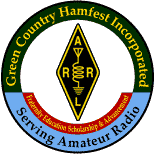 radio gear, but this is the first time I setup for video.  I had a great time, got to meet lots of nice folks, and was happy with the outcome of the show.
This type of setup is what I plan to do at several upcoming Hamfests, including Dayton, Hamcom, and possibly Oklahoma Ham Holiday. For next year, I have already confirmed the Acadiana Hamfest in Rayne, LA, and will also be going back to Orlando.  More Hamfests might be possible, depending on my schedule and availability time, but either way – this is the type of video that I want to do.  The Dayton GoFundMe link below was setup to help me pay for my trip to Dayton (8 days from the time of this post) so that I can do this type of video.
The folks in Claremore were very welcoming and helpful, so I am planning to return to this show next year also.  Thanks to all the people I met and spoke to at the show, I hope you enjoy the video.
My Dayton 2017 GoFundMe Campaign 
Follow me on: