The Bluespot DMR Hotspot
The Bluespot DMR Hotspot (also called Bluestack) is a popular device to connect to the Brandmeister DMR Network.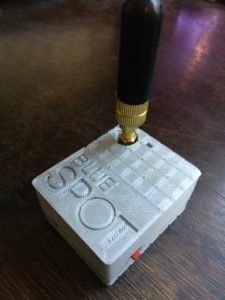 This device is a small daughterboard would connects to a DVmega daughterboard, which is usually made to connect to a Raspberry Pi.  Instead of using the Pi, the Bluespot board connects to the DVmega board, and is powered by a microUSB connector.  This eliminates the need for a Raspberry Pi, and instead uses the radio in the DVMega board, which connects to the Bluespot board directly, which in turn uses Bluetooth to connect to any Android device for the purpose of having an internet connection.
That is a long explanation.  Here is a simple chart:
Your DMR Radio → keys up the DVmega board radio → connected to the Bluespot board → connects to an Android device via Bluetooth → Android device is connected to the internet via 3G/4G/ or WiFi.
In this video I show you how to connect the Bluespot device to both an Android phone and a Winbook tablet running Windows 8.1.  The tablet is what I currently have setup in my vehicle as a full-time connection to the Bluespot board.  On road trips I use this to connect to the network so that my Android phone is freed up for other tasks (like receiving phone calls, hi-hi).
The Brandmeister network is very active on a few talkgroups because people can use hotspots and go anywhere with them.  It makes it much easier and more versatile to get into the DMR network, instead of having to be in repeater range.
Bluespot Board to connect to the DVMEGA (cases are options on this page, and fit both boards for protection)
DVMEGA UHF Board from Gigaparts
DVMEGA Dualband (VHF/UHF)
 – Dual Band Version
Brandmeister TG3148 Facebook Page
Follow me on: