The Anytone AT-5888UVIII Triband Mobile Radio has been anticipated since late 2014.  The announced this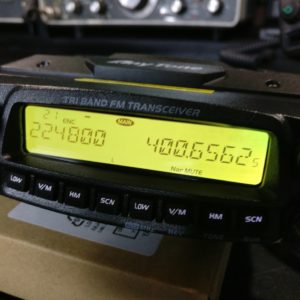 radio around Christmas time, and said it would be ready the following Spring.  Fast forward about a year and a half, and finally, we have the radio available.
I took about 2-3 weeks to make this video.  I wanted to give the radio a thorough test, both in the shack and in a mobile environment.  All tests to date have been very positive.
You can purchase this radio from this link.
You can download the programming software for free from this link
From the beginning, the radio was announced to be available as an upgrade to the AnyTone AT-5888UV Dual Band Radio
.  Still with 750 memory channels, the AT-5888UVIII adds the 1.25M band to the mix for the left-side of the radio only.  I didn't find this unusual, really, because the TYT TH-9800 and Yaesu FT-8900 radios only allow the 10 and 6 meter bands on the left side of the radio also.  So it seems standard practice to add the "extra" bands only to the left side, and leave the right side for your regular dual band options.
The 220MHz band is becoming more and more popular in certain areas.  I know that here in the Dallas / Ft Worth area, we have several good repeaters (2 of them that just went on the air within the last month or two) and I hear more people joining the 1.25-meter ranks each week.  At the end of this video, you will hear the DFW 220 net, which takes place on Thursday evenings at 8:30pmCST each week.
I've really only found a few small quirks with this radio – nothing major.  The audio is good, the receiver is good, and programming isn't too complicated.  The power output tests have all been within specs.  If you are interested in the 220MHz band, and your space is limited, this radio might be a good solution for you.
Follow me on: