BridgeCom BCM-220
Tim and Ron over at BridgeCom Systems have done another great piece of work with the BridgeCom BCM-220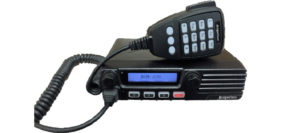 Mobile Radio for the 1.25-meter Amateur Band.  This video below is an unboxing and testing of that radio.
The first thing to notice about this radio is it's commercial-style design.  Sporting a front-facing speaker eliminates the need for an external speaker, to replace the in-radio speaker, which is often found in the top or bottom of the radio.  With this radio, the front-facing speaker makes it easier to hear the received audio from the frequency to where you are tuned.
This radio would make a great addition to any shack or mobile station wanting to incorporate 220MHz.  Watch the video below for more details.