DXpedition
In October of 2016 I had the pleasure of returning to the Las Villas Del Guayabo, outside of Liberia, Costa Rica, for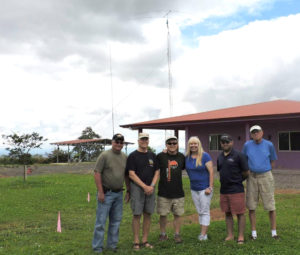 DXpedition.
My first trip was in 2015 and I did a video recording here at this link.
Special thanks to all of our sponsors this year, which include Buddipole, TN07, MFJ, LNR Precision and Monitor Systems.  We did have some successful contacts on 630-meters with the Monitor Systems 630M Transverter.  I got some of the setup on video, but I didn't get any of the actual contacts because it was all done via WSPR, so there were no phone QSOs.  But the 630M Transverter device worked quite well.
I didn't have as much time to make contacts this year as I did last year.  Some because we spent some extra time setting up antennas, but mostly because of the CQWWSSB contest going this weekend.  We operated under the callsign of TI7/W5AP as a multi-multi station.  This allowed us to enter to contest and pull all of the QSOs together in 1 log submission.
This was another fun trip and I look forward to doing it again next year.  The QRP work I did was quite fun, and I didn't expect that.  I may have to do some other QRP videos in the future.
Follow me on: