TYT MD390 :
TYT has added the new MD390 to their inventory with a brand-new IP67-rated DMR handheld radio.  Today I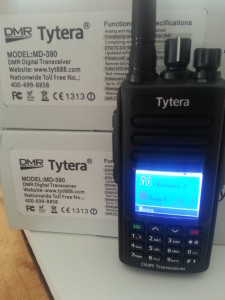 show you an unboxing video and do some on-air testing, as well as show you what new pieces are included with the radio in the new package.
The TYT MD380, still available and in production, has been one of the most popular DMR HTs for Amateur Operators, to date.  The main reason for this is the ~$125 price point.  You can sometimes find sale prices lower than the $125 mark, but you also see some other Amateur Vendors selling these radios for $140-$160.  But whatever the best price is at the time, these are still popular for being sub-$200.
Recently a group of hams hacked the MD380 radio and enabled full DMR scanning, meaning that you can receive DMR talkgroups without having to know which talkgroup numbers to program.  Also included in some versions is the ability to receive P25, DSTAR and Fusion audio.  So far you cannot use the MD380 to transmit on these types of systems, but I have read that the same group is working on an updated version that will allow transmitting soon.  If this happens, you will probably see many more MD380 radios sold since the Connect Systems CS7000 has been delayed by more than 2 years, and is projected to have a much higher price-point than the TYT model.
Either way, the TYT MD390 doesn't bring many new things to the table.  An IP67 rating means it is water-resistant and if you drop it on the street, it isn't going to shatter.  In fact, it has a very rugged feel to it.  It also comes with an extended antenna and an in-line PTT earbud.